The 30th of December is the birthday of some famous people, among them Tiger Woods, Bo Diddley, Rudyard Kipling, Del Shannon and Davy Jones of The Monkees. Although it is not my birthday, the 30th December in 2008 was truly unforgettable for me.
The job of being a deep sea fisherman has its drawbacks. One of the important ones, is that there are things you cannot do like a normal person, husband or father. Weddings, funerals, birthdays, any type of family celebration, and countless important events in your bairn's growing up, I had missed many of these things, during nearly 40 years of being at sea.
Being away sometimes for 7 to 10 days at a time, made it important that you tried to do things with your bairns in the 2 days that you were home, before away to sea again. This also posed a problem, because many times you were home in the middle of the week, when they were at school. However we had many trips to beaches, castles, parks and general outdoor stuff, but often it was just with mum and friends, as dad was 'awa fishin'. The one guarantee of the job, was that you would be home to celebrate Christmas and New Year with your family, albeit sailing day was always at the back of your mind as New Year's Day approached. Weather permitting, we would normally jump in the minibus on the morning of the 2nd of January, for the trip to Aberdeen, get our gear on board, let go the ropes and away for the first trip of the year. One of the things my wife loathed on New Year's Day, was the sight of me packing my bag with my sea gear, just after we had finished our meal. It was a sign the home time was over.
One thing I had never done in my life, was real hill or mountain climbing, but this particular year my son and I had given it some thought. We eventually decided, again weather permitting, we would go and climb a hill, a real hill, a Munro. A Munro in Scotland is a hill over 3,000 feet in height, and there are 282 of them, so I had asked a hill climbing friend some advice on an easy-ish hill not too far away. The advice was taken and off we went. We may have been novices, but at least we had the proper gear. And so it was on Tuesday 30th December 2008 that we were up early and away in the car to Glenshee, to climb my first Munro. It was a bonny morning when we left Cellardyke and the drive up was fine, until we got to just short of the Cairnwell, where there was a lot of low cloud, but it seemed to be clearing. We parked up just below where the Devil's Elbow used to be, (a notorious double hairpin bend on the old road, with a 1 in 6 gradient), got the gear on, and away we went wi' map in hand.
The low mist soon cleared, and we had a beautiful blue sky and bright sunny morning. The slopes were covered in snow, and with the freezing temperatures it looked like it would be crispy to walk on rather than soft snow. After studying the route, our first mistake was not paying attention to the route. Go straight ahead at the start, up and over a couple of little humps, turn left and head north along a ridge to the ski tows, turn to the right and head east up towards the summit. Well we forgot to turn left, which meant we had to go down a dip, then had a near vertical climb up an icy face which just about finished me. I was used to extremes of weather, but it was the constant exertion to climb that slope that gave me second thoughts. What am I doing here I thought? Frequent wee stops to admire the views, but truthfully it was to have a breather. It doesn't help when you are pechin' like an old carthorse, and your son thinks he is running in the Grand National. When the climb eased up a bit and I regained some composure, he reined in a bit and before long we came over a wee ridge and we could see the summit of Glas Maol, 3,504ft. The books say about 2 hours to climb but we were a bit more than that, 3 hours I would say. But honestly, what a feeling and what a view. Absolutely stunning, cameras out, few photos and onward to second peak, Creag Leacach 3,238ft.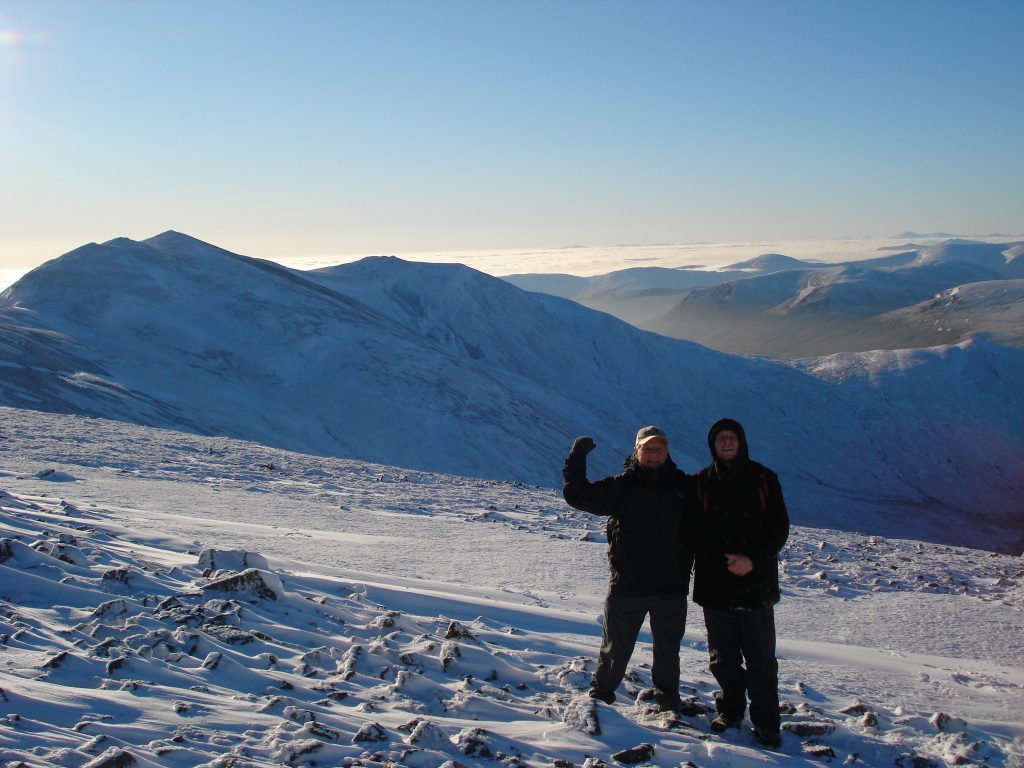 Looking from where we were the walk to the next peak seemed to be pretty straightforward. The books say follow the screes and grass slopes, and a dry stone dyke in a south west direction, which takes you to the next top. The problem with that is that everything was white, covered in snow and frozen solid, but as the visibility meant we could see for miles and the target was in sight. We did find some of the old dyke and some fence posts which made it easier to follow, and we staggered over a boulder field which was tricky in the icy conditions, eventually reaching Munro number two.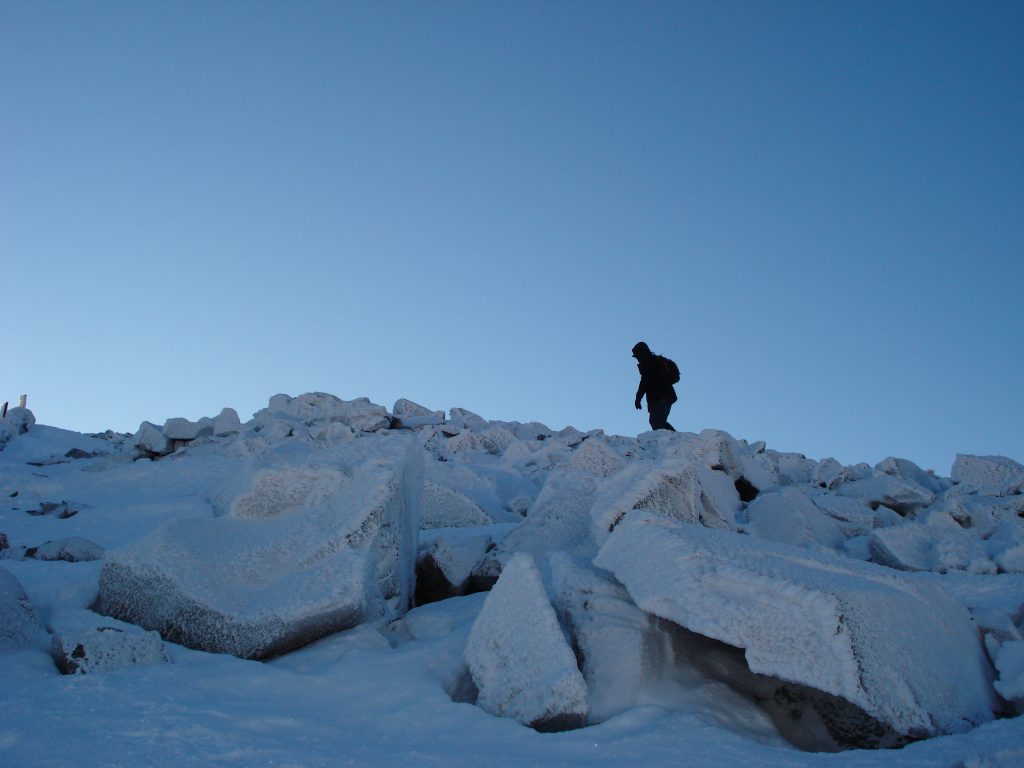 We had clear skies all day, great views, the beautiful shapes carved by the wind of the frozen snow, almost like little bunches of white flowers scattered over the tops, and now we had the most stunning sight. Cloud inversion on a sunny day. This meant we were above mist and cloud, and it was like looking out of an aeroplane at 30,000 feet, masses of cotton wool clouds for miles, and a watery bright setting sun, casting shadows. In Scotland there are very often wonderful sunrises and sunsets, and I had seen many at sea as well but I was amazed by this spectacular view. This type of climatic condition was reported in a national newspaper, (guess which one), in January 2019 as rare, well it's not. It doesn't happen every week, but it is not uncommon if you are a hill walker or climber, and I have seen it more than once. It is still an outstanding experience the first time you see it.
After the second summit it was a short walk to a lesser top, then downhill and along by a burn for a while before catching the track we had taken up, and back to the car. The total time taken from start to finish was over 6 hours. The last hour or so had been mostly in the shade, so we were glad to get back to the car, get the cold gear off and get the heater on full blast for a wee while. Getting home, having a shower and something to eat, followed by a couple of good sizes drams rounded off a perfect day.
Over the next 9 years I managed to do 106 Munros, some with my son, and some on my own. I enjoyed doing some alone, there is a feeling of calm solitude when you are tramping up a hill with your own thoughts, thinking you are the only person on that hill, until you see someone away ahead or away behind you. Bugger, you feel let down, why is he here today goes through your mind, as if that person had spoiled your day. They hadn't really, but you wish they had picked a different hill or day.
Mostly the climbs were with my son, and it was a good thing to do, because when there are only two of you, it's good to get into different conversations, and being apart over the years for much of our lives, we had a lot to talk about. I would say I learned a lot about him as a person, and things he had done in his life, which I didn't know, and I'm sure he would say the same about me.
Moral of this yarn? No matter what age you are, if you are able, and there is something you have always wanted to do, and you get the chance, just do it. I was aged 60 when I conquered my first Munro, and I loved doing every one after, even the ones in the hardest winter conditions. We stopped in Pitlochry once about 7am to refuel and get some chocolate bars for the climb, and when we stepped out of the car it was -15degrees. We still managed our 2 hills at Dalwhinnie. Knackered but smiling. I love the Scottish countryside, beaches, forest, mountains and castles, so if there is one of these you haven't visited, get out and do it now, you will not regret it.
R.K. Hughes is a retired fisherman of 35+ years and chairman of the Pittenweem Fisherman's Memorial Association.